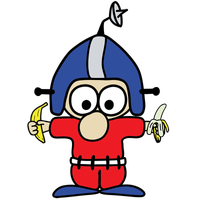 Fred Pinsocket Productions
Founded by music family entertainer Peter Apel (pictured below), our company is dedicated to providing quality music, books and resources for children and families. Services include performances and educational programs for schools and other public and private events, and feature original music created by Peter Apel,  Music can be found at our on-line store, local retailers,  iTunes, Amazon.com, and Spotify.  Please be sure to add our music to your on-line playlists and radio stations, and remember to hit that "like" button!
Who is Peter Apel?
Peter Apel is singer-songwriter, author, illustrator and dad. He has produced two collections of original songs for children: I've Got a Dinosaur on my Head! and Fred's Back! - both endorsed by KID'S FIRST - The Coalition for Quality Children's Media. In 2015 he published the children's board book, Fred Pinsocket Loves Bananas. Peter can be found throughout the Silicon Valley performing his catchy, original songs in school programs, libraries, shopping malls and special events.

Peter Apel is a member of The Children's Music Network and is a voting member of the Recording Academy.  As an author/illustrator, Peter is part of the Society of Children's Book Writers and Illustrators (SCBWI) and the Independent Book Publishers Association (IBPA). He currently resides in San Jose with his wife and two children. Visit www.PeterApel.com  to learn more about Peter's music, books and programs.

Who is Fred?
Our company namesake and logo, Fred Pinsocket, is a cartoon spaceman character Peter Apel, has been drawing (more like "doodling") since junior high school.  Through the years, Fred's most commonly appeared as a baseball player, though he made appearances on various personal greeting cards in such forms as a drummer, a graduate, or a cowboy.
With Peter Apel's debut album, "I've Got a Dinosaur on My Head!" Fred finally was given a microphone, a space piano, and a new spaceman outfit, and he made it onto track 11 as a little spaceman singing about his favorite food.  You can also hear brief guest appearances by Fred in "Sometimes I Have Oatmeal for Breakfast" and "Walking in a Circle."  On Peter's second CD, "Fred's Back!", Fred is out gathering bananas when when he discovers marshmallows ("Bombones").

Peter wrote and illustrated the children's board book, Fred Pinsocket Loves Bananas.
Where did Fred's last name come from?
Peter was working in a summer job building printed circuit boards, where many of the heat-sensitive integrated circuits (ICs) would be plugged into various sizes of pre-soldered sockets. There were 10-pin sockets, 18-pin sockets, etc. Peter realized "Pinsocket" sounded like someone's last name, and Fred has been known as Fred Pinsocket ever since.

 
"I love bananas.
I love them, yum, yum, yum.
I love bananas.
They've got fiber and potassium!"
- Fred Pinsocket, Spaceman -